I sent an invite to a team member whose status is now "Invitation Pending Team Members." How can I delete this invitation? I see an option to delete a user who's already active, but not to delete an invitation.
You can delete invitations for a specific project.

To delete pending invitation for a project, click
Projects > Active
in the left hand navigation.
Click on the project in which you want the employee to be able to edit work sessions.
Then click
Team members
in the top menu. Scroll down to the
Invite
section on this page.
Click the
X
button for the person whose invitation you want to delete.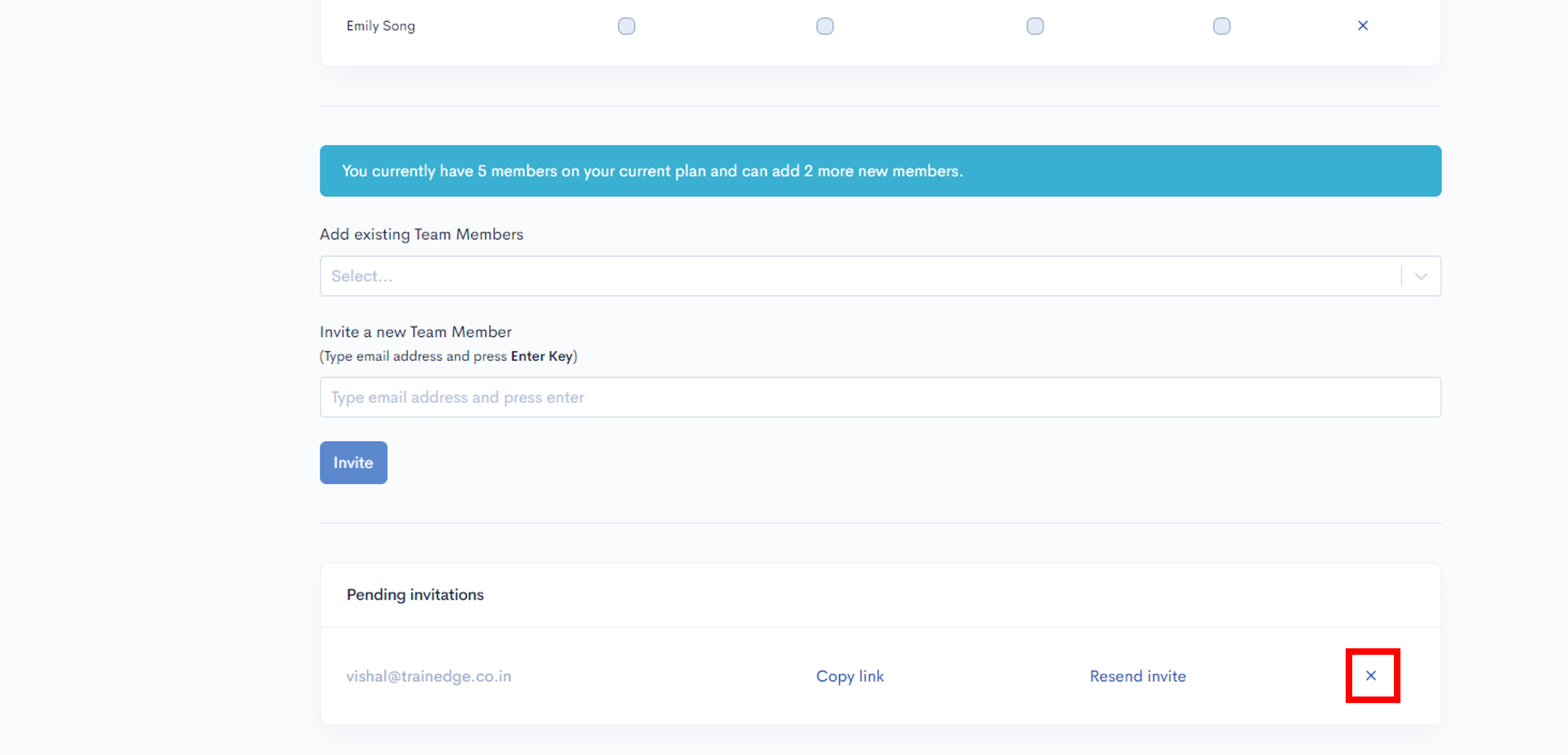 Related Articles

How do I invite a new team member?

There are 2 ways to add a team member to your team: 1. Invite a worker to join your team, and assign them to an existing project or group of projects: Click Team Members in the left navigation menu, then click My Team Members to go to the team ...

Is it possible to delete screenshots taken from a team member's machine?

The account owner cannot delete the screenshots of a team members. However, the members can delete their own screenshots, if you set this permission at the project level. Follow these steps to enable team members to delete screenshots taken on their ...

How do I delete a team member?

Please note that when you delete a team member, all time logs and screenshots of the team member will be deleted permanently. The data is not recoverable after deletion, so ensure you download or export any data you wish to keep before deleting a ...

How can I delete a team member from a project?

Follow these steps to remove a team member from a project: Click Projects > Active in the left hand navigation panel Click the project name from where you want to remove the team member On the Project page, click Team members in the top navigation ...

How do I promote a team member to manager?

Promoting a worker to manager is a way to delegate authority and responsibility. A manager can manage every aspect of a project - inviting team members, creating tasks, and running reports. You can promote a team member to a Manager role for all ...